During my winter break, I spent a week in Sydney with Mr.Navigator visiting one of my close friend, HelloKittySandra and RockstarGabriel, who happen to be in Sydney too. Since the day we arrived, it rained NON-STOP for 3 WHOLE days! Talk about bad timing. But we didn't let the rain stop us from venturing around and having fun.
Mr.Navigator and I had a list of places we wanted to visit while we were there, some are the obvious - Sydney Opera House, Sydney Fish Market. But the place that I'm most excited about is non other than Adriano Zumbo's patisserie!!
If you have been following Masterchef Australia, you'd know how amazing Adriano's desserts are. From his famous 8 layer vanilla cake - V8 cake to his Macarons Tower. While we were looking for the patisserie, I couldn't help but skipped and jumped in excitement. When we found the place, my heart starts pumping, and I rushed into the stall like a little girl entering Barbie Land.
Here are some of his magnificent desserts that were available that day.

Don Pandan Man

Duck the Balls of a L'orange (Must Try!)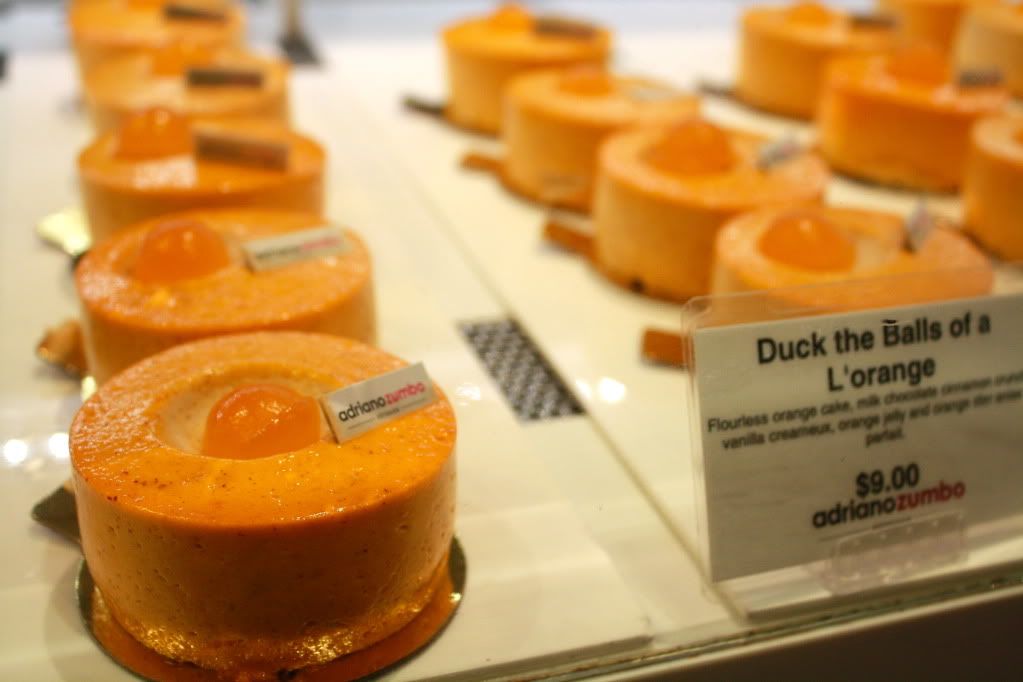 Enter the Dragon (Must try!) This has a tinge of spiciness.

Helen, Where's the Garden? (If you're a black sesame fan, try this.) I didn't really like this as I'm not a black sesame fan at all..

Passionfruit Tart

and of course you can't leave out these yummy Macarons!!
I, personally am not a fan of macarons. But after tasting his macarons... OMG!!!! Instant fan of macarons.

These were our splurges that day,
HelloKittySandra & RockstarGabriel's macarons.
I would say all the flavours are worth trying especially salted butter caramel (my favourite!)
Mr. Navigator's Cocoon.
The inside goodness
my super splurge! The lemon tart was just mouth watering! The lemon gelatin element just melts in your mouth!
The inside goodness of Enter the Dragon. The green part is actually some wasabi mixture.
One thing I noticed after trying all these yummy goodness is that all of Adriano Zumbo's cakes consists of all textures. From a sponge layer to a gelatin layer, to a mousse layer, to a biscuit layer. While eating, make full use of your taste buds because each layer represents different tastes on our palette from sweet, salty, sour to bitter.
One of my most interesting food ventures.